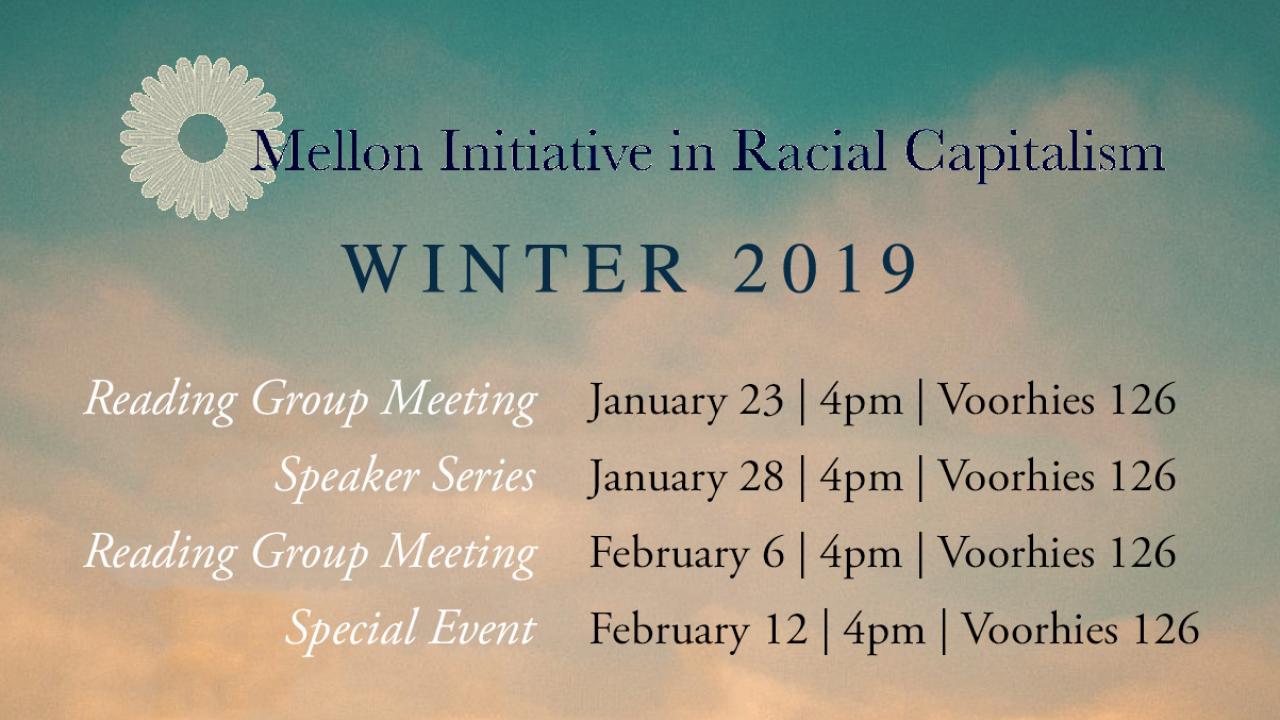 Location
126 Voorhies Hall
Mellon Initiative in Racial Capitalism Winter 2019
Speaker Series
Racial Capitalism and the Work of Reproduction:
Moderator: Rana Jaleel (Gender, Sexuality and Women Studies, UCD)
This initiative brings UC Davis faculty and graduate students together with outside scholars and activists to advance a research agenda that focuses on racial capitalism. The historical relationship between race and capitalism is one of the most enduring and controversial debates in U.S. historiography. Sometimes explicitly, often only implicitly acknowledged, it shapes fundamental questions about inequality, value, life, bondage, and freedom, among others, across the disciplines of race and ethnic studies, history, literary studies, law, economics, sociology and anthropology.       
Link: http://racialcapitalism.ucdavis.edu/
Winter Event Schedule
Reading Group Meeting
Speaker Series
o

    
Monday, January 28 
| 4:00 pm | Voorhies 126 | Panel Discussion, Racial Capitalism and the Work of Reproduction:
Reading Group Meeting
o

    
Wednesday, February 6
 | 4:00 pm | Voorhies 126 | Framing W.E.B. DuBois: Discussion of selected readings with Matthew Vernon (English) and Mark Jerng (English)
Special Event