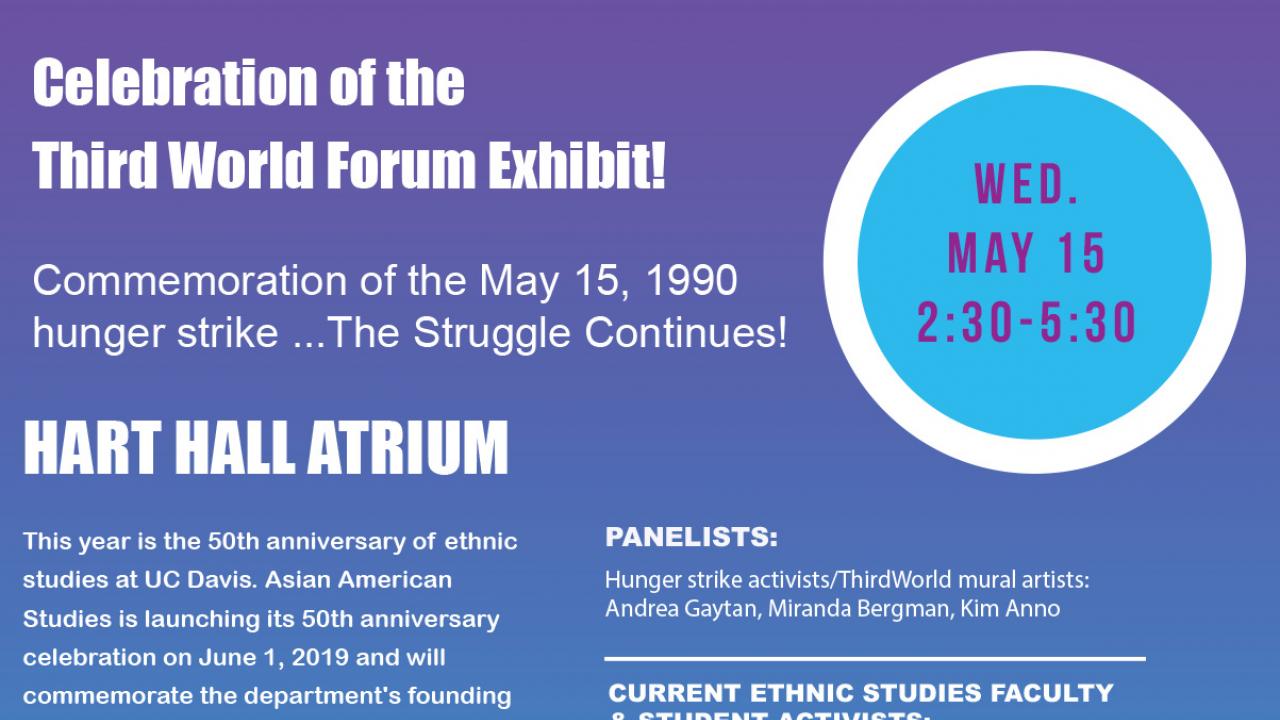 Location
Hart Hall Atrium
Celebration of the Third World Forum exhibit!
Commemoration of the May 15, 1990 hunger strike ... The Struggle Continues!
This year is the 50th anniversary of ethnic studies at UC Davis and May 15 is the anniversary of the hunger strike for ethnic studies. Asian American Studies is launching its 50th anniversary celebration on June 1 and will commemorate the department's founding in 2019-2020.
How can we connect previous struggles related to ethnic studies and social justice organizing with the present moment and the future? How does the Third Word Forum's vision of cross-racial and international solidarity inform current activism ? What are the challenges to cross-racial alliances and student of color activism at UCD?
2.30 pm   Hart 3201     Aztec Blessing by Kalpulli Tlayolotl
Panels
Hunger strike activists/ThirdWorld mural artists:
Andrea Gaytan, Miranda Bergman, Kim Anno
Current ethnic studies faculty and student activists:
Robyn Rodriguez, Yvette Flores, Angie Chabram, Ines Hernandez-Avila, Bettina Ng'weno
Native American Student Union, MEChA, Pan Afro Student Organization, Students for Justice in Palestine, Rise Up Yolo and SPEAK
5.15 pm  Hart Hall Atrium
Reception, tour of TWF exhibit, and cultural performance
Sponsored by Asian American Studies and Chican@ Studies. Cosponsored with African & African American Studies and Native American Studies