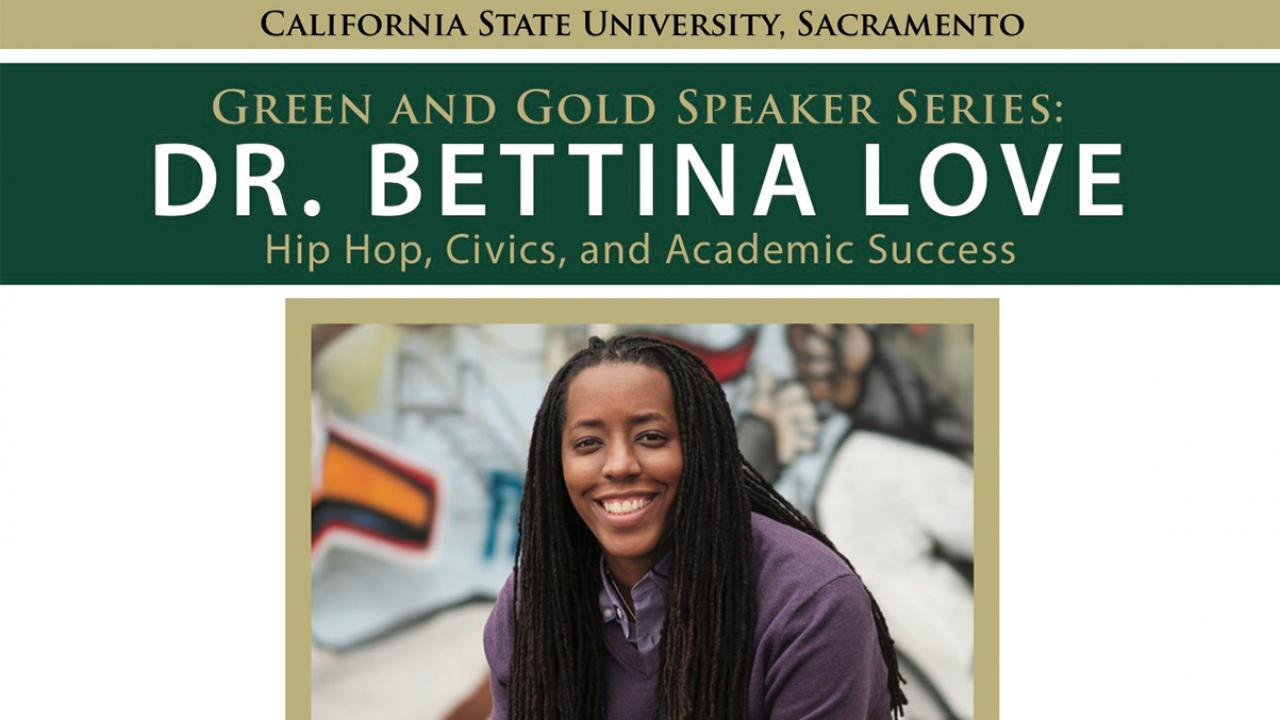 Location
University Union, 6000 J St., Sacramento
CSU Sacramento Green and Gold Speaker Series
Dr. Bettina Love
Hip Hop, Civics, and Academic Success
FREE RSVP: bettinalovesacstate.eventbrite.com
Description: 
Dr. Bettina L. Love will speak at Sacramento State on February 18, 2019 at 3pm in the University Union's Redwood Room as part of Black History Month and the latest offering in the Green and Gold Speaker Series. Dr. Love is an award-winning author and Associate Professor of Educational Theory & Practice at the University of Georgia. Her research focuses on the ways in which urban youth negotiate Hip Hop music and culture to form social, cultural, and political identities in an effort to create new and sustaining ways of thinking about urban education and intersectional social justice. Dr. Love's visit is part of a CSU-UC collaboration. She will be speaking at Sac State on Monday the 18th and will be providing the keynote for the 9th annual Equity Summit at UC Davis on Februry 19th.
Dr. Love is the creator of the Hip Hop civics curriculum GET FREE. In 2016, she was named the Nasir Jones Hiphop Fellow at the Hutchins Center for African and African American Research at Harvard University. Dr. Love is one of the field's most esteemed educational researchers in the area of Hip Hop education and is a sought-after public speaker on a range of topics, including: antiblackness in schools, Black girlhood, queer youth, Hip Hop feminism, art-based education to foster youth civic engagement, and issues of diversity and inclusion.
She is the author of We Want To Do More Than Survive: Abolitionist Teaching and the Pursuit of Educational Freedom and Hip Hop's Li'l Sistas Speak: Negotiating Hip Hop Identities and Politics in the New South. Her work has appeared in numerous books and journals, including the English Journal, Urban Education, The Urban Review, and Journal of LGBT Youth. In 2017, Dr. Love edited a special issue of the Journal of Lesbian Studies focused on the identities, gender performances, and pedagogical practices of Black and Brown lesbian educators.
Real-time capturing provided. For additional accessibility related accommodations, please contact the CSU Sacramento Multi-Cultural Center at mcc@csus.edu
Co-sponsors: Sacramento State School of Music, CSU Sacramento, UC Davis Office of Research and Policy Equity (FRI Seed Grant recipient).