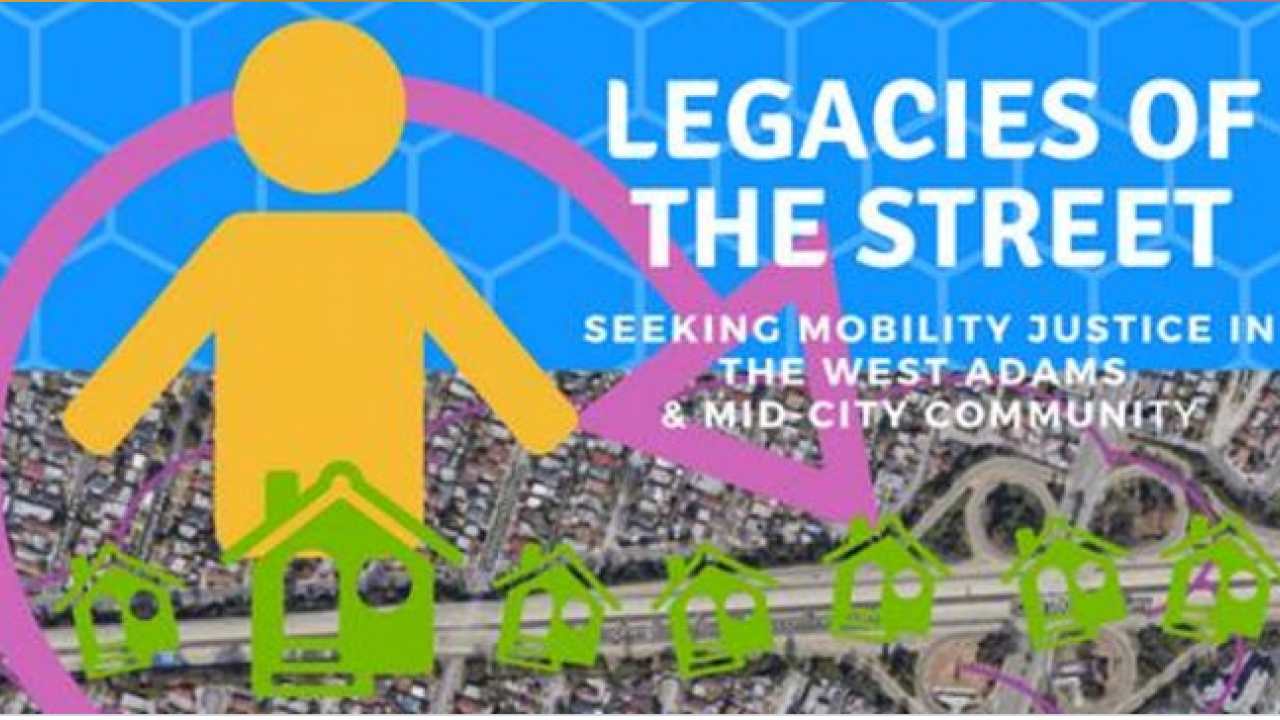 Location
New Los Angeles Charter Middle School, 1919 South Burnside Avenue, Los Angeles
Legacies of the Street is an event that will explore the legacies of I-10 Santa Monica Freeway construction through the West Adams/Mid-City community. The highway ripped through a thriving African American neighborhood. This forever changed the neighborhood by dividing it in two and subjecting residents to the noise and pollution of major traffic. This event invites those within the community and beyond to learn this history and share their stories. Attendees will consider how to build a transportation justice movement that remembers past injustices and draws on community strengths.
The history of transportation is as much a story of exclusion, isolation, and destruction as it is one of connection and growth. These histories need to be a part of contemporary conversations about transportation investment, policy, and change. This event seeks to begin that conversation by connecting community members, transportation activists, urban planners, mobility justice strategists and academic researchers.
This event will take place on June 9th, 2018 from 3pm – 6pm at New Los Angeles Charter Middle School (1919 South Burnside Avenue, LA 90016). Dinner will be included at this free event. Please RSVP at https://tinyurl.com/mobility-justice. Space is limited.
The West Adams / Mid City event has been developed and organized by Yolanda Davis-Overstreet, Urban Sustainabilist / Mobility Strategist and Dr. Adonia Lugo, Urban Anthropologist / Mobility Strategist. Legacies of the Street has been made possible through grant funding from California Humanities and the collaboration of Dr. Sarah McCullough and Dr. Adonia Lugo, whose research on bicycling led them to question the absence of racial history as a core topic within sustainable transportation.
Facilitators and presenters at the event include:
Dr. Adonia Lugo – urban anthropologist and mobility justice strategist based in Los Angeles. Adonia collaborates with folks around the country to envision a sustainable transportation future centered in the needs and experiences of historically marginalized communities and people of color like her.
Yolanda Davis-Overstreet – longtime resident of the West Adams community, founder of Ride in Living Color and recent graduate of Antioch University Los Angeles, Master of Arts in Urban Sustainability focusing on Mobility Justice will discuss and facilitate community engagement to recognize the historic and current narratives connected to the construction of the I-10. In an effort, to strengthen community resilience and belonging, Yolanda will also conduct a social justice breathing exercise that will "humanize the mobility justice movement" as the city of Los Angeles works to improve upon pedestrian safety and mobility justice in low-income and communities of color.
Vera Frances Lugo- is a vocal artist from San Juan Capistrano, California. Active in many ensembles throughout Los Angeles and Orange County, she is currently working as a professional chorister and sometimes session singer. She performs as an alto in the social justice-oriented Tonality, in the elite professional core of Los Angeles-based choir Nova Vocal Ensemble, and in Seraphim Vocal Ensemble, an early music group. In her spare time, Vera can be found singing harmonies with The Beatles and playing a dinky toy piano.
Monique Lopez - founder of Pueblo, social justice planner and policy advocate will discuss and engage in dialogue on the I-10 freeway history, sharing how neighbors in other communities organize to resist expansion (refine -more to come – walking tour and demonstration)
Sarah McCullough – cultural scholar and Associate Director of the Feminist Research Institute at UC Davis. Sarah passionate about bringing the insights of intersectional feminism to bear on new research fields and enjoys creating meaningful and respectful dialogue across boundaries that typically divide—between universities and communities, activists and researchers, scientists and humanists, workers and policymakers.
This project was made possible with support from, California Humanities, a non-profit partner of the National Endowment for the Humanities. For more information on California Humanities, please visit www.calhum.org.