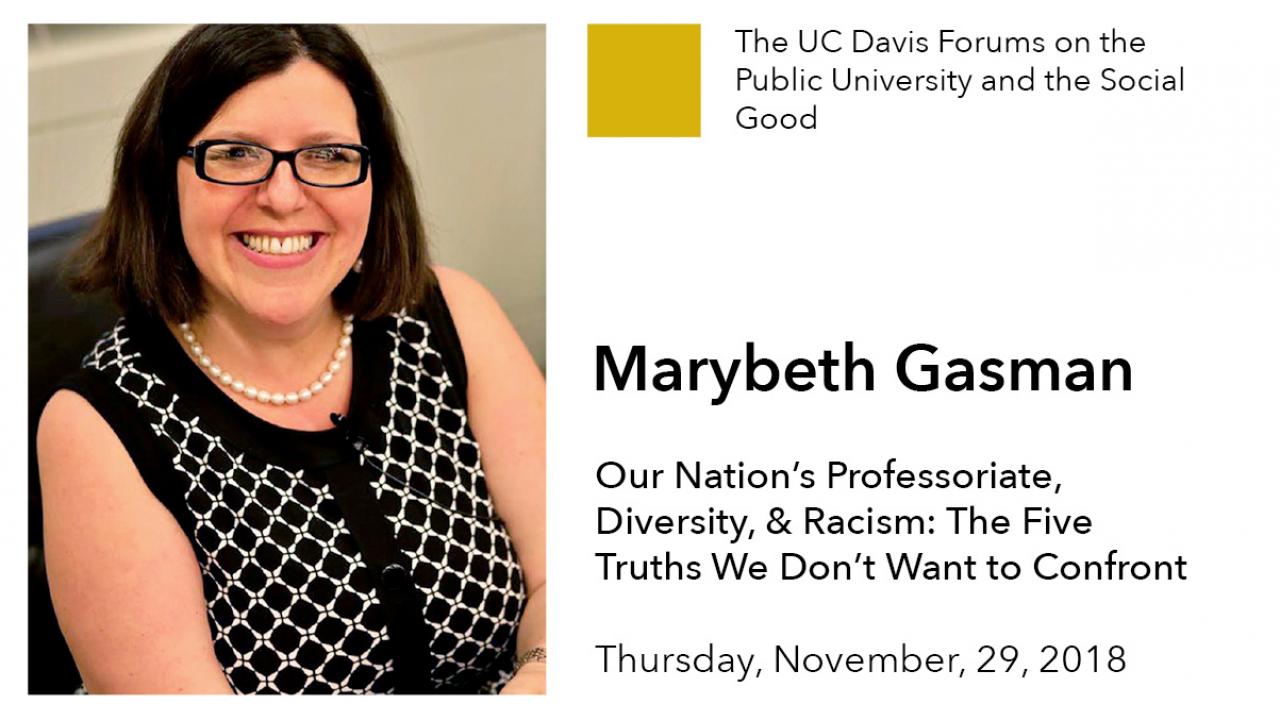 Location
MPR Student Community Center
The UC Davis Forums on the Public University and the Social Good present
Our Nation's Professoriate, Diversity, & Racism: The Five Truths We Don't Want to Confront
Marybeth Gasman
Judy & Howard Berkowitz Professor of Education, University of Pennsylvania
Lecture:  3:00 - 4:30 p.m.
Reception:  4:30 - 5:30 p.m.
Drawing on a forthcoming book of hers titled We Don't Want Them: Faculty Diversity in Academe (Princeton University Press), Professor Gasman will argue that systemic racism permeates faculty hiring and diversity and will urge those in the academy to make changes that are necessary to bring about equity and opportunity.
Marybeth Gasman is the Judy & Howard Berkowitz Professor in the Graduate School of Education at the University of Pennsylvania. Her areas of expertise include the history of American higher education, Minority Serving Institutions (with an emphasis on Historically Black Colleges and Universities), racism and diversity, fundraising and philanthropy, and higher education leadership. Professor Gasman is the founding director of the Penn Center for Minority Serving Institutions (MSIs), which works to amplify the contributions of, strengthen, and support MSIs and those scholars interested in them. She holds secondary appointments in history, Africana Studies, and the School of Social Policy and Practice. Ranked by Education Week as one of the 10 most influential education scholars in the nation, Professor Gasman is the author or editor of 25 books and has written more than 250 peer-reviewed articles, scholarly essays, and book chapters, among other pieces. Her newest book, Making Black Scientists (with Thai-Huy Nguyen), is forthcoming from Harvard University Press. Professor Gasman serves on the board of trustees of The College Board as well as Paul Quinn College, a small, urban, Historically Black College in Dallas, Texas.
Sponsors Include:  The Office of the Provost and Executive Vice Chancellor, the School of Education, Academic Affairs, the Community and Regional Development Program, and the Center for Regional Change.