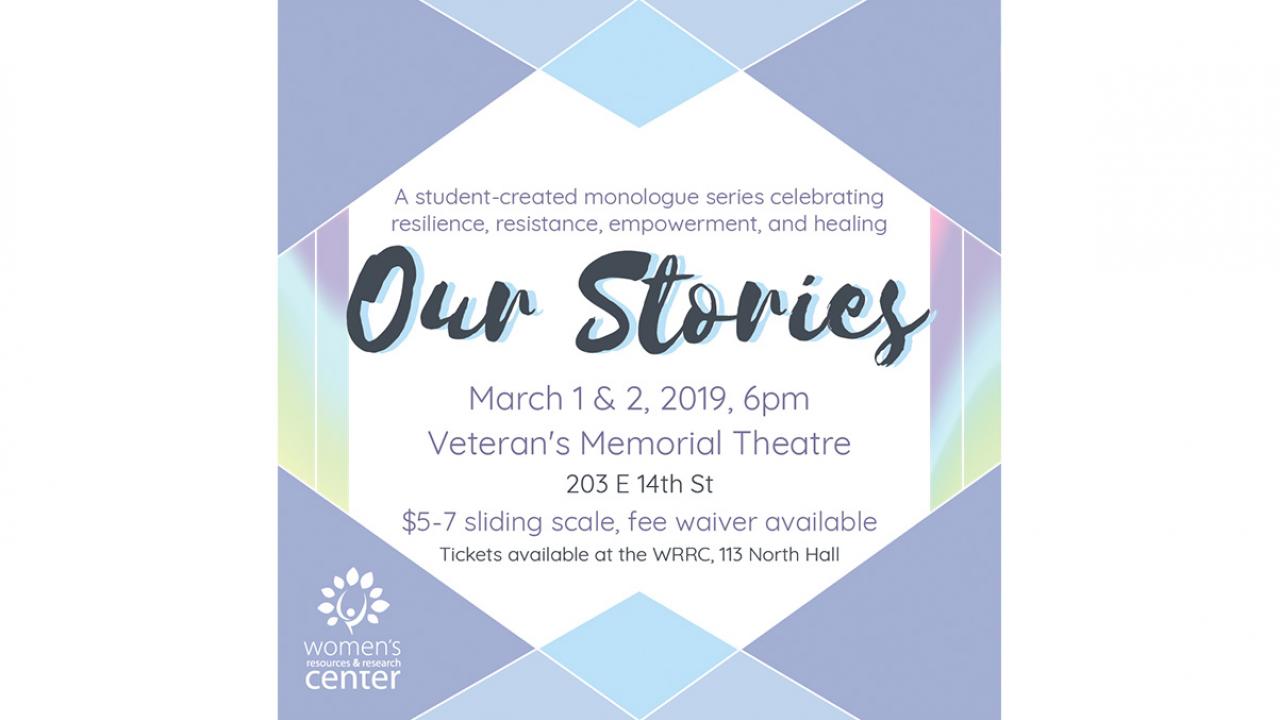 Location
Veterans Memorial Center Theater, 203 E 14th St, Davis, CA 95616
Presented by Women's Resources and Research Center
OurStories
A Monologue Series Celebrating Resilience, Resistance, Empowerment, and Healing
The Womxn's Resources and Research Center is excited to invite you to the OurStories 2019 production, March 1st and 2nd at 6:00pm in Veterans Memorial Theatre, Davis (P'atwin land) CA! WRRC's OurStories production is student produced, directed, written, and performed. Through a series of performances, the production of OurStories centers the impacts of gendered violence on the community in order to create visibility, educate, and work to end systems of oppression.
Central themes of OurStories include violence, empowerment, and healing. OurStories serves as a space in which those impacted by gendered violence, and/or those wishing to engage with their narratives through performance can share their stories and connect with other members of the community.
We hope you can forward this email to students, faculty, and community members about the OurStories Art Gallery! 
The WRRC is also looking for artists to submit their art pieces to the OurStories Art Gallery! We are hoping to receive poems, prints, paintings, and other 2-dimensional media that relate to the themes of resistance, resilience, empowerment, or healing.
The OurStories Art Gallery will be located in the Veterans Memorial Theatre lobby, where audience members can vote on their favorite piece. The winners of the most votes will win a gift card of $100, $75, or $50!  All artwork submissions are due February 15th.
Please submit using this link: https://goo.gl/forms/6hNClxG8L93p2EMz2
If you are interested in attending OurStories 2019, please feel free to get your tickets in Women's Resources and Research Center on the first floor of 113 North Hall, on a donation scale of $5-7; however, Fee Waivers are also available! Also, tickets are available at: https://ourstories2019.eventbrite.com
If you want to invite your students to the OurStories production as an extra credit opportunity, we are in full support!!
For more information on OurStories 2019 production and the Art Gallery, please visit our Facebook page: UC Davis Women's Resources and Research Center and please feel free to
Contact us: 
wrrc@ucdavis.edu or (530) 752-3372
https://www.facebook.com/events/327017124822507/
Accessibility Information for OurStories:
There

will be Live Captioning present during the performances

Veterans

Memorial Theater will be a Fragrance Free Space

Veterans

Memorial Theater is wheelchair accessible

Restrooms

in the theater will be gender inclusive.