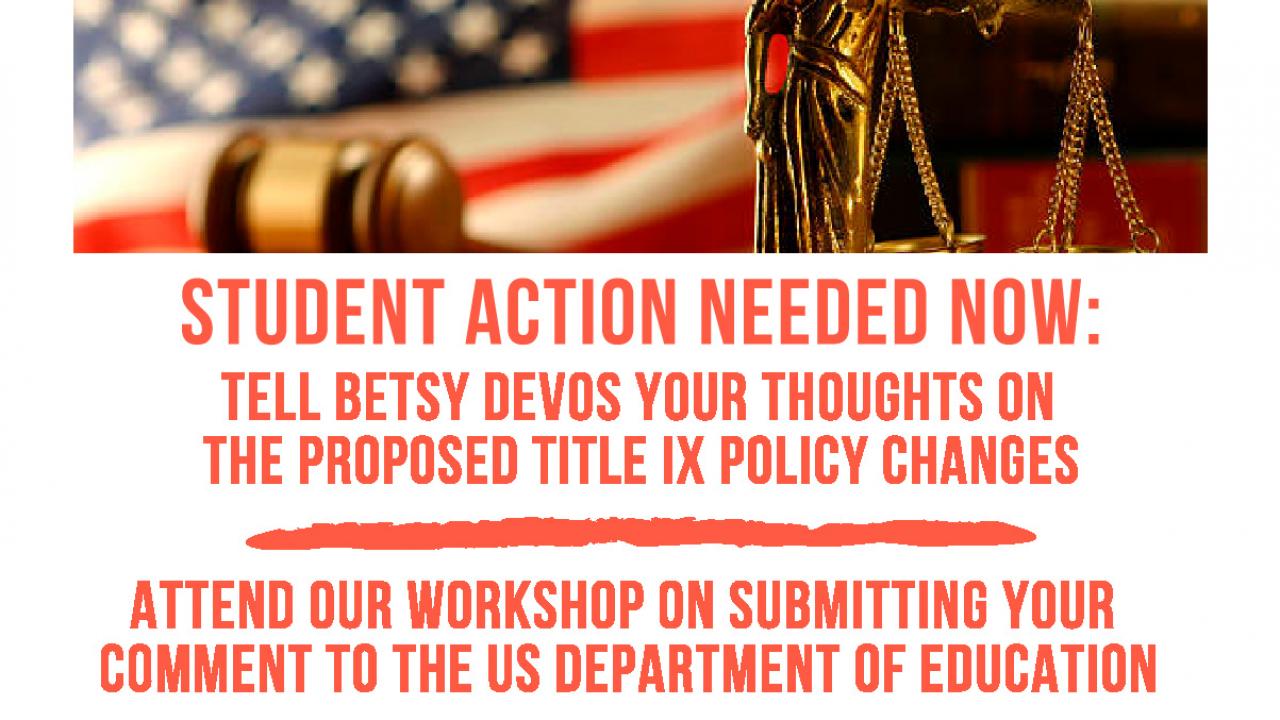 Location
1303 UC Davis Law School
ASUCD Sexual Assault Awareness and Advocacy Committee (SAAAC)
Title IX: "Notice and Comment" Workshops
Background
The US Department of Education has proposed federal policy changes to Title IX, which is a law that prohibits discrimination on the basis of gender and is also the governing body that handles institutional responses to sexual violence/sexual harassment (SVSH).  
As explained by the UC Systemwide Title IX Coordinator, "The Department of Education's (DE) proposed changes will reverse decades of well-established, hard-won progress toward equity in our nation's schools, unravel critical protections for individuals who experience sexual harassment, and undermine the very procedures designed to ensure fairness and justice. This is yet another attack on students' right to an educational environment free of sexual harassment."
To learn more about the proposed rule, see this article and our Facebook event.
Action Needed
Until January 28th, there is a public comment period, in which the public can submit comments to the DE before a final ruling is decided. It is essential the UC student voice is represented in high volume in these comments to combat this threat to a SVSH-free campus. In response to the proposed rule, UC Davis and other universities throughout the nation are coming together to express why these potential policy changes would bolster the rights of the accused and severely minimize the amount of already-low reports made to Title IX.
SAAAC will be hosting two workshops to provide students and individuals guidance while writing comments and to educate the community about the proposed rule.
6-8pm on January 16th in Room 1303 of the UC Davis Law School
6-8pm on January 22nd at the Women's Resources and Research Center Conference Room in North Hall.
To learn more about Title IX and its implications for students and for instructions on how to submit a comment, visit www.facebook.com/saaacucdavis