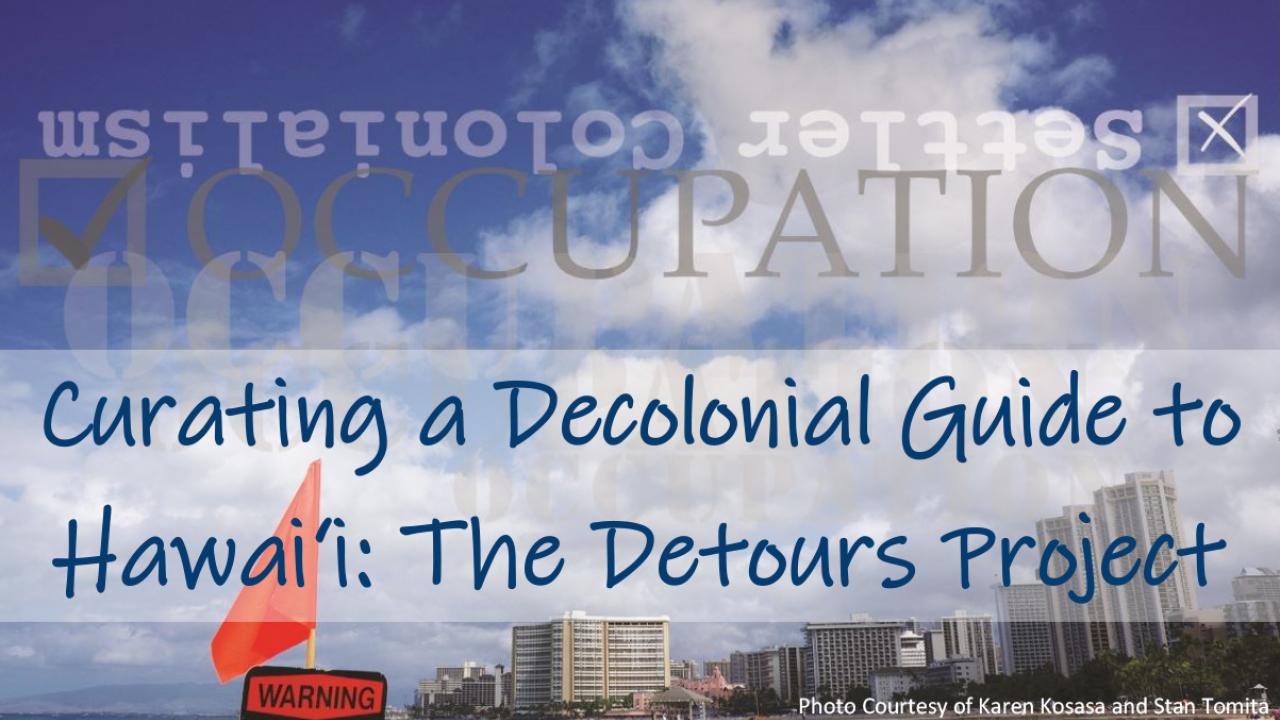 Cultural Studies Graduate Group 
Winter 2019 Colloquium Series
Curating a Decolonial Guide to Hawai'i: The Detours Project
Dr. Vernadette Gonzalez (U of Hawai'i - Manoa)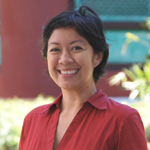 You are invited to attend a workshop and/or colloquium event with Dr. Vernadette Vicuña Gonzalez, Associate Editor of American Quarterly. This would be a great opportunity to learn more about the writing/publishing process as well as decolonization. We hope to see you there!
The Detours project takes seriously the power of form, and the reading practices and publics produced by the genre of the guidebook, which manifest the fantasy of Hawai'i as an exotic island destination for the consumption of tourists. Detours deliberately perverts the guidebook to produce alternative narratives, tours, itineraries, mappings and images of the islands as well as concrete examples of how we can move from metaphors of decolonization to material practices and everyday acts of resistance. This
presentation will describe the project and the political and intellectual foundations upon which it is based, the work and process of curating the contributions, and the vision and ethical responsibilities that guide it.
Vernadette Gonzalez is Associate Professor of American Studies and Director of the Honors Program at the University of Hawai'i at Mānoa. Her areas of research include studies of tourism and militarism, transnational cultural studies, feminist theory, postcolonial studies, Asian American cultural and literary studies, and globalization studies with a focus on Asia and the Pacific. She has a PhD in Ethnic Studies from the University of California, Berkeley, with a Designated Emphasis in Women, Gender and Sexuality.
Her first book, Securing Paradise: Tourism and Militarism in Hawai'i and the Philippines (Duke UP, 2013) won the Association for Asian American Studies book award for the best book in cultural studies published in 2013. In 2016, she co-edited, with Jana K. Lipman and Teresia Teaiwa, an American Quarterly special issue on the convergences of tourism and militarism.
Her most recent published work can be found in several collections, including Making the Empire Work (NYU 2015); Mobile Desires (Palgrave 2015); Transnational Crossroads (U. Nebraska 2012); as well as in journals such as Radical History Review (2017 and 2015); The Journal of Sustainable Tourism (2017) and Critical Ethnic Studies (forthcoming 2017).
Her next book projects are an exploration of the intimacies of imperial geopolitics through the life story of Isabel Rosario Cooper, a mixed-race vaudeville and film actress and sometime mistress of General Douglas, and Detours: A Decolonial Guide to Hawai'i, co-edited with Hōkūlani Aikau.
Link: https://culturalstudies.ucdavis.edu/colloquium
Co-sponsors: Cultural Studies, American Studies, Critical Militarization, Policing, and Security Studies Research Group