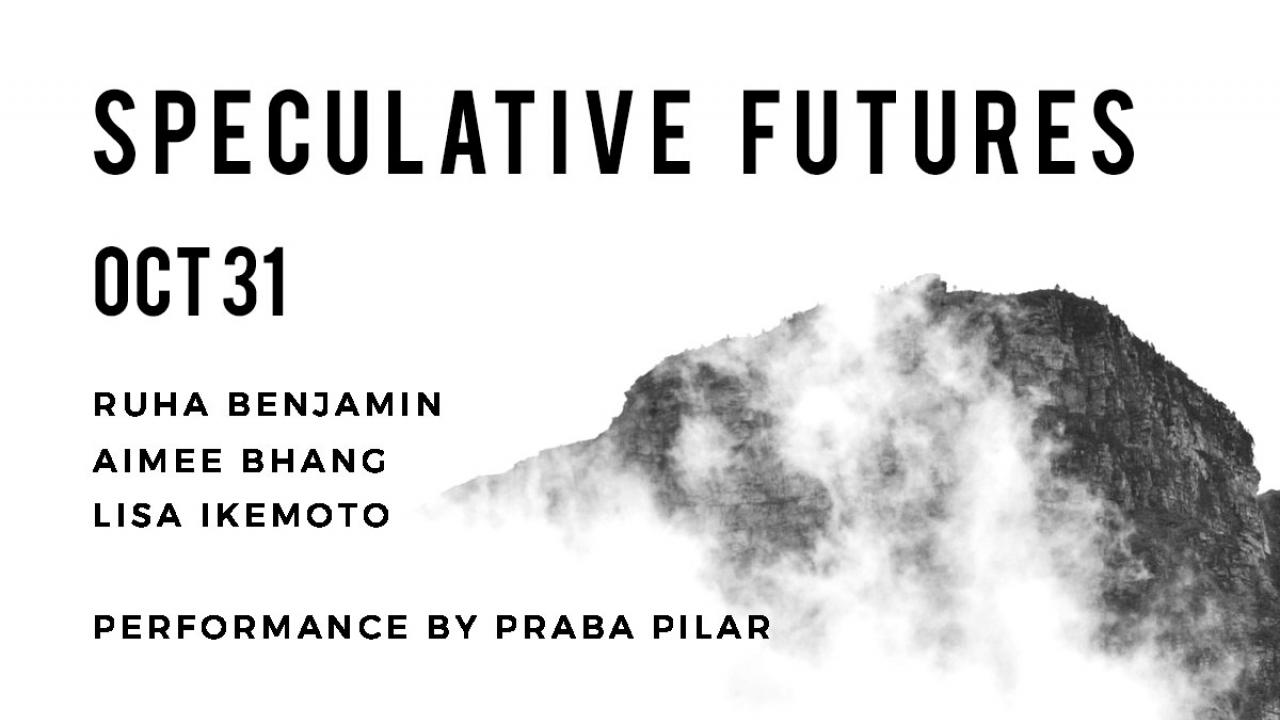 Location
MPR Student Community Center
HATCH presents
Speculative Futures
12:00-5:00pm  Symposium | MPR, Student Community Center
5:30-7:00pm  Special performance | Arena Theater, Wright Hall
SYMPOSIUM & PERFORMANCE SCHEDULE
12:00-12:15pm: Welcome & Introductory Remarks
12:15-1:45pm: Panel 1: Emerging Work in Speculative Futures
    ◦    "Speculative Media Visions, Scientific Futures"| Katherine Buse (English) & Ranjodh Singh Dhaliwal (English)
    ◦    "Eradication and Speculation: Malaria" | Anne O'Connor (Anthropology)
    ◦    "Afrofuturist Activisms" | Jasmine Wade (Cultural Studies)
    ◦    1:45-2:00pm Break
2:00-4:00pm: Panel 2: Speculation, Social Reproduction, Social Justice
    ◦    Aimee Bahng |Assistant Professor of Gender & Women's Studies, Pomona College
    ◦    Ruha Benjamin | Associate Professor of African American Studies, Princeton University
    ◦    Lisa Ikemoto | Martin Luther King, Jr. Professor of Law, UC Davis 
4:00-5:00pm: Experiments in Speculation (Group Writing Lab)
5:30-7:00pm: The NO!!!BOT by Praba Pilar, Arena Theater, Wright Hall
Symposium
Co-sponsored by the UC Davis Ethics Commons, Speculative Futures brings feminist and queer thinkers together to examine how bodily "facts" and "fictions" shape, enable, or frustrate social justice ends, within and beyond the university.  Featured speakers include:
Ruha Benjamin, Associate Professor of African American Studies at Princeton University

Aimee Bhang, Assistant Professor of Women and Gender Studies at Pomona College

Lisa Ikemoto, Professor of Law at the University of California Davis School of Law.
THE NO!!!BOT | Performance by Praba Pilar
Wednesday, October 31st | 5:30 pm | Arena Theater, Wright 120 
Co-sponsored with the Graduate Group in Performance Studies, The NO!!!BOT visits the unnerving world of Exoskeletons to glitch 21st century technocolonialism: wordless, breathless, sexual and grotesque. Not an acquiescent programmed Robot nor a despicable malicious Bot, instead it is part of a series hurtling into our collective imaginaries to hack destructive code makers and generate our own deviant electric dreams.
Hosted by: HATCH: Feminist Arts & Sciences Shop
Symposium Co-sponsors:  UC Davis Humanities Institute, UC Davis Ethics Commons
Special Performance Co-sponsor:  Graduate Group in Performance Studies
Event Category
Tags