Transformative Climate Change Education for Graduate Students
Developing a Theory of Change to Increase Equity in Climate Change Science
FRI Undergraduate Advisory Board and staff member Elaina Legg presented a poster at the UC Davis 34th Annual Undergraduate Research, Scholarship & Creative Activities Conference on April 28.
Take a look at what we've been up to by reading her abstract and checking out by her poster!
Climate inequities stem from a lack of equity-focused research informing practices to respond to climate change problems. One way to increase equity in climate change research is through education, specifically targeted at emergent scholars such as graduate students. We developed a transformative climate change program that is adapted from the Asking Different Questions graduate program, titled Asking Different Questions in Climate Change Science (ADQCS). This program will be informed by a theory of change based on the literature on equity-focused graduate education programs and a qualitative analysis of interviews with twenty UC Davis faculty and students. We found that both individual and contextual characteristics impacted a student's experience doing equity-focused research and practices. Individual characteristics include individual motivations, lived experiences, and academic background. Contextual characteristics include an individual's social, cultural, and institutional environments of support. A climate change educational program should integrate these factors in order to be successful, and this will be the aim of ADQCS. ADQCS will give graduate students the skills, knowledge, and resources to understand and respond to climate change problems more effectively.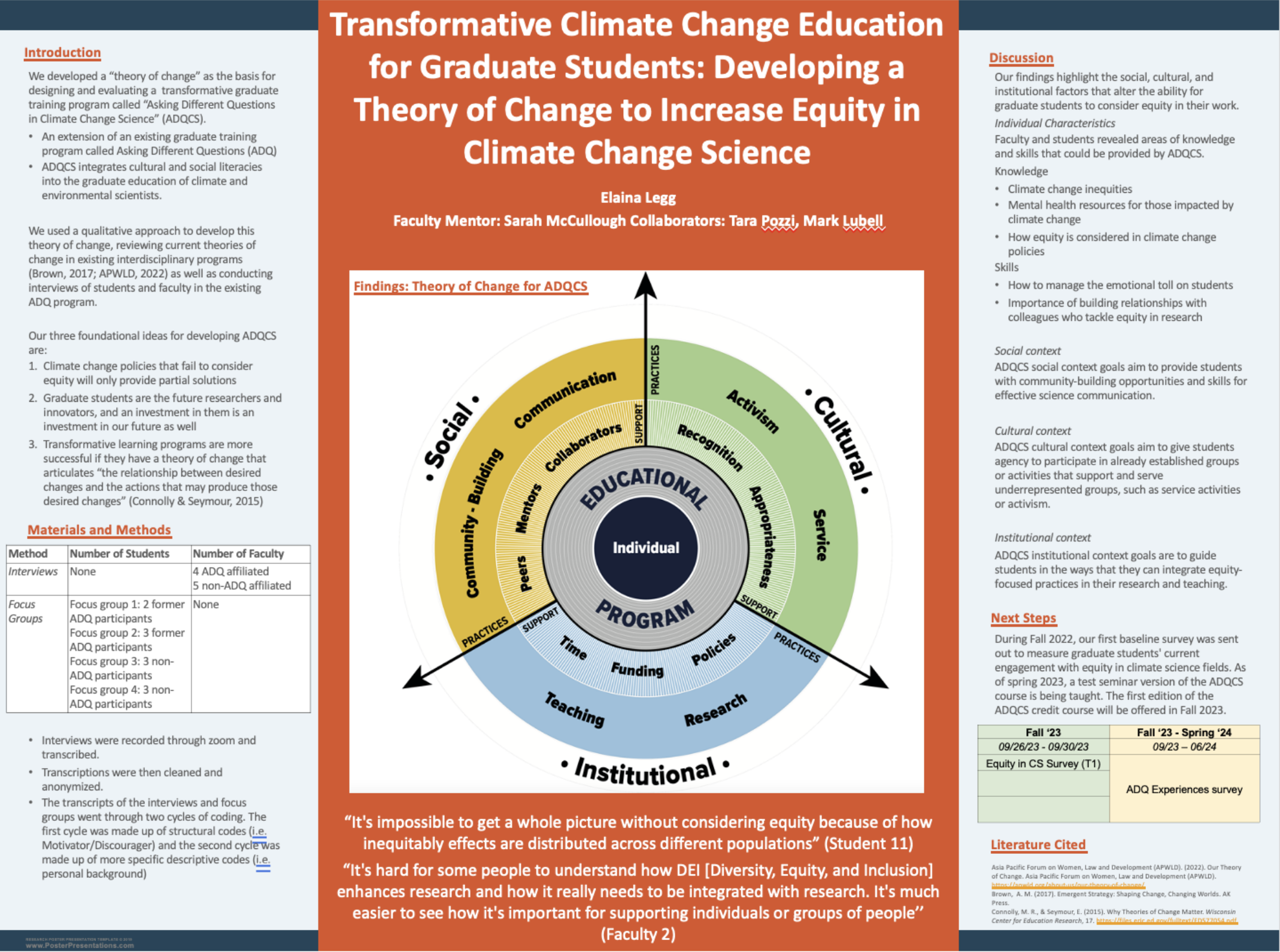 Bio: Elaina is graduating this upcoming spring with a double bachelor's in communications and psychology, with a minor in human development. She plans to pursue an M.S. in School psychology, at the University of Oregon, in the fall of 2023.
Primary Category
Tags